Empowering all People with Career possibilities
Cisco Networking Academy transforms the lives of learners, educators and communities through the power of technology, education and career opportunities. Available to anyone, anywhere.
About Academy
Cisco Networking Academy delivers a comprehensive, 21st century learning experience to help students develop the foundational ICT skills needed to design, build, and manage networks, along with career skills such as problem solving, collaboration, and critical thinking. Students complete hands-on learning activities and network simulations to develop practical skills that will help them fill a growing need for networking professionals around the world.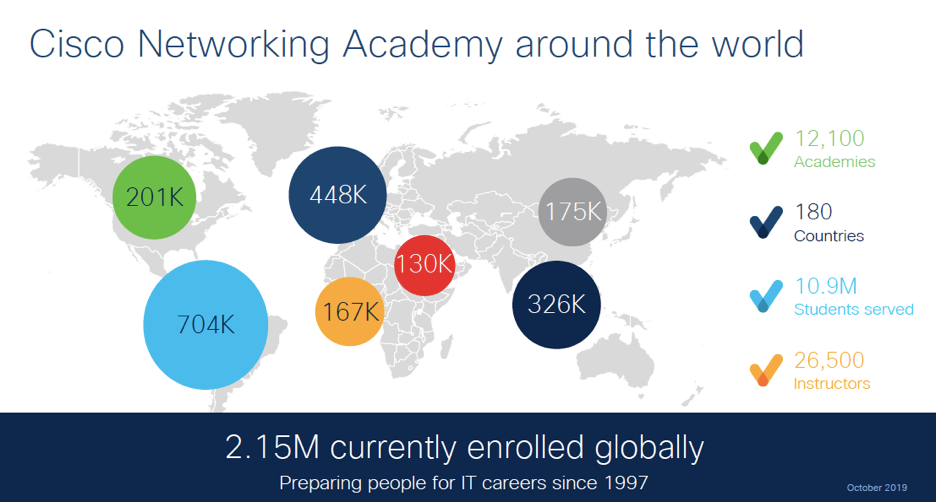 Academy Benefits
• Offer a high quality curriculum that combines in-depth technical training and professional skills development.
• Choose courses to compliment academic or vocational program and prepare students for certification.
• Leverage Cisco learning platform to track student success and connect with educators and IT experts.
• Use Cisco Academy Logo, for branding promotion
Academy Courses
Exploratory courses emphasize exposure to new ideas and some basic conceptual understanding, with a taste of the breadth of skills one might learn and with the desire to encourage students to consider a career in a particular technology area or type of technology-related business.
Foundational courses develop a breadth of conceptual understanding and practice of beginning and intermediate skills that form the basis for choosing one or two areas to specialize.
Career-Ready courses give students the depth of skills needed to prepare for an entry-level job or further specialization using iterative learn-and-apply skill cycles in every lesson.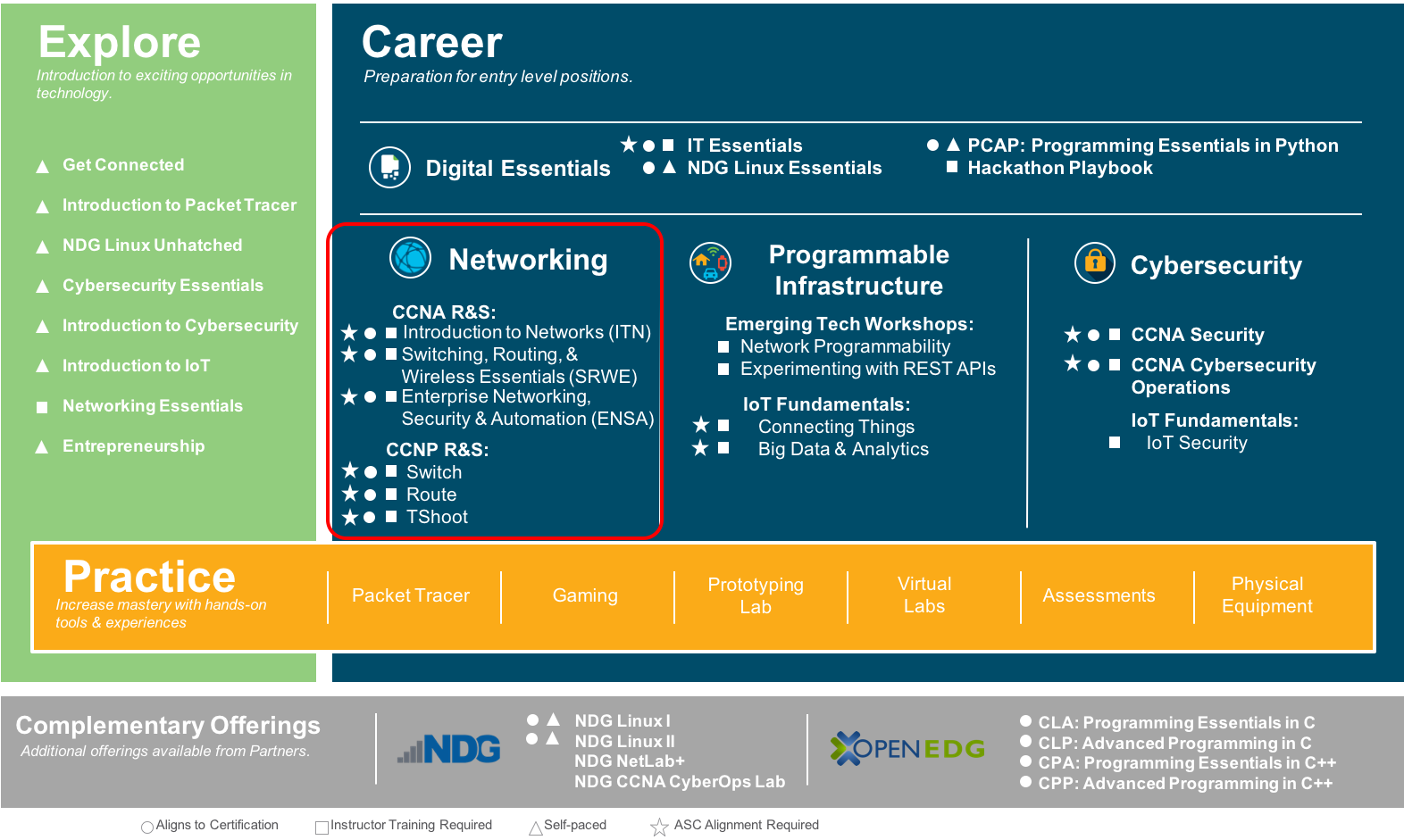 Academy Platform
Cisco Networking Academy courses build interest and competency through exposure, education and experience …
•Exposure to new ideas: Students observe and listen to experts; They read, discuss, and perform engaging activities to become familiar with a new concept, capability, or process.
•Instructionally designed education: Students engage with materials, typically in an in-person or virtual classroom, that are designed by instructors for instructors.
•Hands-on experiences: Students learn by doing new types of tasks and experimenting to better grasp what is being taught
Academy Partnership
Ready to start empowering students for the exciting, high-demand IT careers of tomorrow? Partner with the Cisco Networking Academy program today. We'll show you how rewarding it can be.
As part of its Corporate Social Responsibility, Cisco has created the ecosystem, developed the platform that delivers it and provides the curriculum all free of charge.
A critical part of the ecosystem is a network of partner organizations that provide support for the individual academies and train and accredit the instructors for the academies.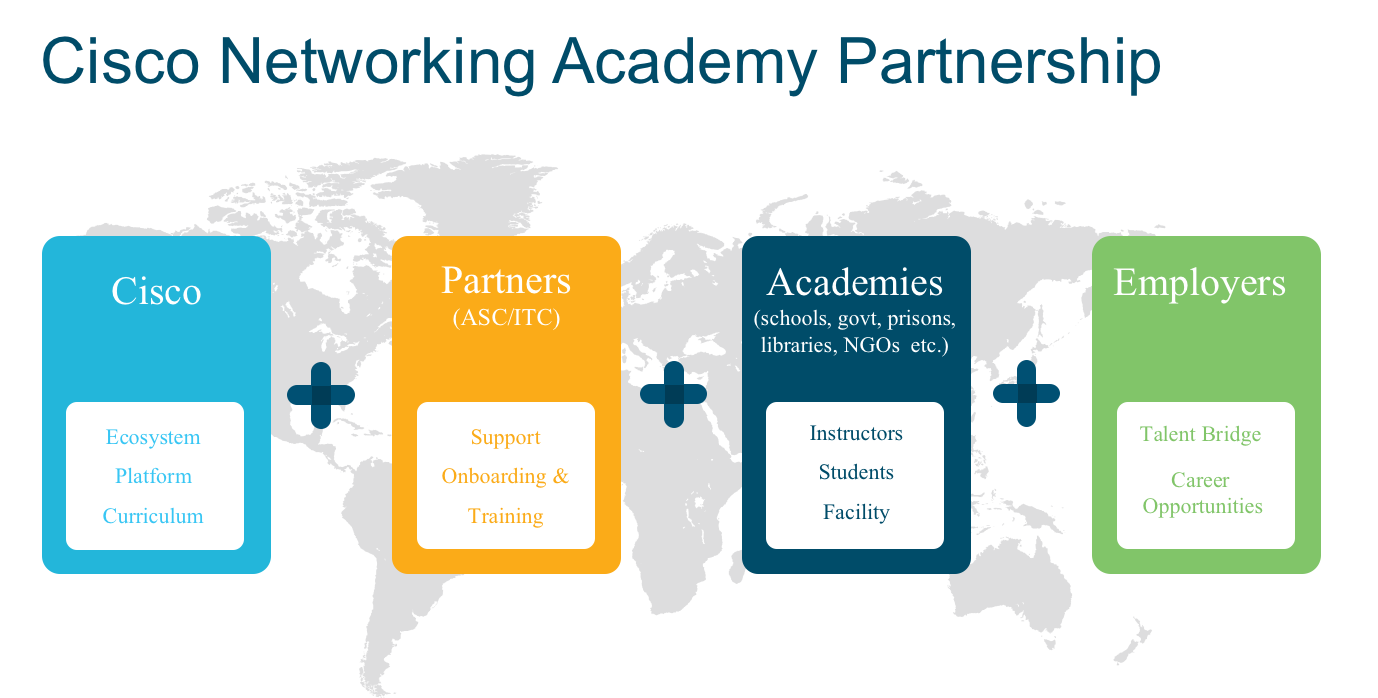 Career Opportunity
The IT landscape is evolving in an exciting way. As networking technologies help drive digital transformation across industries and geographies, you can join the vanguard of educators who are using the Cisco Networking Academy program to bring technology education and improved job opportunities to individuals in your community, and beyond.
Cisco Networking Academy Talent Bridge is a comprehensive employment program that further prepares students with resume and interviewing skills, and connects them to employers with the Matching Engine.